"Just wanted to drop you a quick mail before 2016 disappears, to say thank you for all your assistance, service and help over the past year. It has been a privilege to have crossed paths with such dynamic and professional people as John and yourself. I just want to wish you and your family a Blessed Christmas and a prosperous and wonderful 2017. If you're traveling, do so safely and see you next year."
"Thank you for your input Phia. You were the first person who gave me comfort regarding the tax treatment of this transaction in a trust. I am looking forward to a long relationship with Trusteeze, as I know it will keep me on track."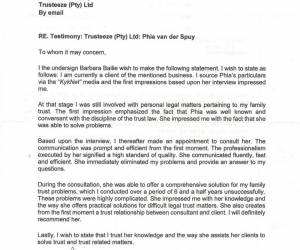 "Net 'n nota om BAIE geluk te se met die boek. Dit was harde werk. Ek weet. Jy behoort eintlik 'n PhD te kry hiervoor….! Ek is bly julle het oor Madaleen & my se pad gekom. Dis lekker om met julle geassosieer te wees. Dit bring gemoedsrus."
I've been using the Trust platform and services of Trusteeze for at least 4 years and find it comprehensive, effective and reasonably simple to navigate. When requiring support on the system, it was readily available to me in an friendly-caring manner. As a happy client, I highly recommend this service.